Be a Student Ambassador for Your School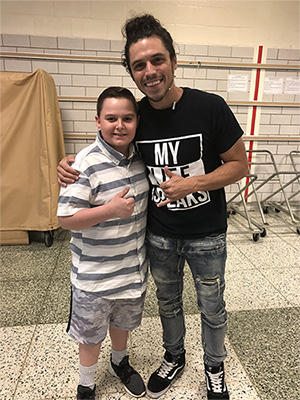 Your Life Speaks had an incredible 2018- 2019 school year! Positive change is taking place in schools across the country! Nathan spoke in 280 schools from the east to the west coast. Nathan even presented his first speaking engagement in Castlegar, Canada, because of a determined senior who wanted to share Nathans powerful message with his peers.
Many students have wrote to YLS asking how they can bring our talks to their school. It is actually very simple, just share the reasons why to your principal, guidance counselor, teachers and even your parent.
Last year we had at least a dozen students bring Nathan to their schools and communities. One of our team members mentored each student to use their leadership skills and compassion for their school and community. All the students who championed this cause not only demonstrated passion, determination and leadership, they also demonstrated intentional participation in their community for the common good of others!
Check out some of the student ambassadors on this page from 2018-2019 and be inspired to move forward with confidence in bringing Your Life Speaks to your school in 2020! If interested contact natalie@yourlifespeak.org
Student Biographies
William Watt
William Watt is a seventeen year old grade twelve student at Stanley Humphries Secondary School in Castlegar, British Columbia, Canada. When he's not fixing his golf swing on the range, will enjoys spending time in nature, working out and connecting with friends. He spends much of his time focused on school work and how to improve his school community through his position of Student President. This position came to him somewhat by coincidence, as he just happened to walk into the signup meeting. But as soon as he walked in, he knew that this was something he had to do, and was something that could help him grow past many inner struggles and it was a way for him to serve others at a higher level.
Will is fueled by his passion to be a catalyst for change and adding more value to the daily lives of students at his school. He loves bringing an idea into reality and the process of learning how to do that. His most recent success of this was bringing Nathan Harmon to speak at his high school. At first it seemed like an impossible task as the funding was not easily available, but after some time of fundraising it became a reality.
Nathan arrived in Castlegar and spoke at Stanley Humphries, hundreds of students were touched by his story and his message and many lives were undoubtedly changed. Doing things like this is something Will wants to move forward with into the future and continually learn how to add more value to others and become a better leader.