Be a Student Ambassador for Your School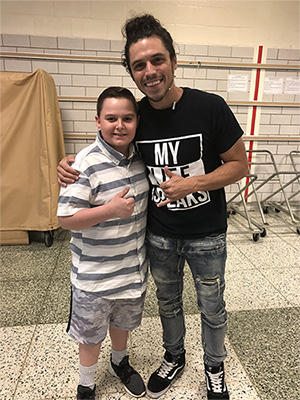 Your Life Speaks had an incredible 2018- 2019 school year! Positive change is taking place in schools across the country! Nathan spoke in 280 schools from the east to the west coast. Nathan even presented his first speaking engagement in Castlegar, Canada, because of a determined senior who wanted to share Nathans powerful message with his peers.
Many students have wrote to YLS asking how they can bring our talks to their school. It is actually very simple, just share the reasons why to your principal, guidance counselor, teachers and even your parent.
Last year we had at least a dozen students bring Nathan to their schools and communities. One of our team members mentored each student to use their leadership skills and compassion for their school and community. All the students who championed this cause not only demonstrated passion, determination and leadership, they also demonstrated intentional participation in their community for the common good of others!
Check out some of the student ambassadors on this page from 2018-2019 and be inspired to move forward with confidence in bringing Your Life Speaks to your school in 2020! If interested contact natalie@yourlifespeak.org
Student Biographies
William Watt
William Watt is a seventeen year old grade twelve student at Stanley Humphries Secondary School in Castlegar, British Columbia, Canada. When he's not fixing his golf swing on the range, will enjoys spending time in nature, working out and connecting with friends. He spends much of his time focused on school work and how to improve his school community through his position of Student President. This position came to him somewhat by coincidence, as he just happened to walk into the signup meeting. But as soon as he walked in, he knew that this was something he had to do, and was something that could help him grow past many inner struggles and it was a way for him to serve others at a higher level.
Will is fueled by his passion to be a catalyst for change and adding more value to the daily lives of students at his school. He loves bringing an idea into reality and the process of learning how to do that. His most recent success of this was bringing Nathan Harmon to speak at his high school. At first it seemed like an impossible task as the funding was not easily available, but after some time of fundraising it became a reality.
Nathan arrived in Castlegar and spoke at Stanley Humphries, hundreds of students were touched by his story and his message and many lives were undoubtedly changed. Doing things like this is something Will wants to move forward with into the future and continually learn how to add more value to others and become a better leader.
Jai Nolan
Hi guys, my name is Jessica Nolan, I go by Jai. I was born April 2002, making me 17 years old as of 2019. I'm from Massachusetts and go to Groton Dunstable Regional High School. I live with my mom, dad, grandmother, and younger brother. I absolutely love Disney and hula hooping. When I was in middle school, my grandfather died and school became very difficult. I was struggling with depression since I was young. After he died, there was a lot going on in my life that it was just so hard to cope, at this time I started self harming. It was hard to be happy. It was around this time that I came across one of Nathans videos on Youtube.
The summer after 8th grade I moved to Dunstable, MA and started 9th grade at GDRHS. Throughout freshman year I still struggled with depression, cutting, and starving myself. The following school year was the same until…. I saw another one of Nathans videos on Youtube about self harm & cutting. I went to my principal and assistant principal and asked if we could bring Your Life Speaks to Groton Dunstable. Mr. Arena, the assistant principal said " How are you planning on getting the money to have him come?"
I was extremely determined to get him to come, I said " I'll have bake sales, I'll make the money, I need to bring him here!" I wrote a grant to the Groton Trust Fund, they gave me some of the money, but I still had a few hundred dollars to raise. I sold cookies and candy out of a duffel bag. When I finally reached the goal I was so happy.
May of 2018 Nathan and his crew came to my school. That morning I walked into the theater at my school, I saw Nathan, and at that moment I knew that my life was going to change, and I cried. That night we had a presentation for parents and the community. It was amazing, my family and friends loved it. Throughout the school day Nathan went to many different classrooms and presented his I-Legacy program. I got to watch him present, students and teachers enjoyed it and thanked Nathan and I. When the school wide assembly came Nathan spoke…he engaged with all the students, bringing some to tears from the emotion in his presentation. It was the best experience of my life. I will never forget it. After the assembly my phone was blowing up with comments and people thanking me for making this happen. Someone texted me saying that Nathan was so inspiring, and such an amazing speaker, but also he made a huge impact on my life. Also they said it's amazing that you raised that money and brought him here.
Nathan coming to my school was a dream that I made happen. Now I am so much happier with life, yes sometimes here and there I still get depressed. I have a great group of supportive friends that are always there for me. Also I started doing karate which really helps. I noticed that its made me a lot happier, and feel better about who I am, but also know when I've reached my limit. Getting Nathan and his crew to come to GD was my impact to the world. By doing so I am Your Life Speaks first student ambassador.
If you're a student don't be afraid to ask your principal if you can bring YLS to your school. Don't give up. If they say we don't have enough money to bring him here. Work hard to raise that money on your own like I did!!! You can make a huge impact.
Remember YOUR LIFE SPEAKS!!!!